Acoustic Doors, Door Sets and Frames
Sound proofing your doors for schools, concert halls and auditoriums
Acoustic Doors: 30dB Rw – 48dB Rw
| | | | | |
| --- | --- | --- | --- | --- |
| dB Rw Rating | Fire Rating | Leaf Available | Glass Opening | Uses |
| ESD Ac.48 | 30min only | Single only | No | Recording Studios/Concert Halls |
| ESD Ac.47 | 30min only | Pairs only | No | Recording Studios/Concert Halls |
| ESD Ac.46 | 30min only | Single only | No | Large Music Rooms/Conference Rooms |
| ESD Ac.40 | 30min only | Single only | Yes | Hospitals/Small Music Rooms/Recording Studios |
| ESD Ac.37 | 30min only | Pairs only | Yes | Hospitals/Small Music Rooms/Recording Studios |
| ESD Ac.35 | 30 & 60min | Single only | Yes | Hotels School Classrooms |
| ESD Ac.33 | 30 & 60min | Single & Pairs | Yes | General Offices/Schools/Home Offices |
| ESD Ac.30 | 30 & 60min | Single & Pairs | No | Children's Nurseries/General Home |
Our Acoustic doors are all sold as pre-hung doorsets.
Pre-hung Acoustic doorsets are supplied with all necessary acoustic and fire seals.
The most popular doorset dimensions are 2100 x 910mm S/O (2040 x 840mm leaf size)
2100 x 1010mm S/O (2040 x 926mm leaf size)
We will of course manufacture your door to your exact size (core material permitting) should you require us to.
Door frame thickness is available in either 32 or 44mm x 108mm minimum section size for jambs and head.
Door facings can be either real wood veneer, laminates (HPL) or primed for paint.
Our ESD Ac.48dB Rw door achieved a maximum reading of 57dB sound reduction at 6300 Hz
Maximum glazed opening for our ESD Ac.40 – 0.425m2 (650 x 650mm approx.)
ESD Ac.30-37 – Max.size 25% of the face area.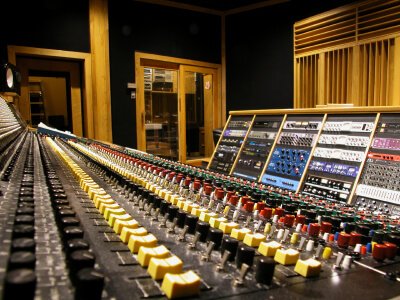 A decibel (dB) is 1/10 a bel, a bel was originally a measurement of sound loss in telephone cables and so-named after Alexander Graham Bell. The scale is not linear but logarithmic. For example, a sound that is 10dB louder than another is in fact twice as loud, a difference of 15dB is three times louder. Therefore a sound reduction of 10dB will seem half as loud as before.
Rw is the weighted sound reduction index in decibels (dB). In the laboratory, our doors are tested at different frequencies, the best reduction has been measured at 57dB at 6300 hrtz, but when averaged out across all the readings the same door is given a rating of 48dB.
Rule of Thumb e.g. a 36dB Rw doorset provides double the performance of a 33dB Rw doorset.
Our Acoustic Doorsets have gained Quiet Mark Approval
We are pleased to announce that our bespoke flush acoustic doorset systems have received the Quiet Mark accreditation.
The Quiet Mark is an initiative from the Noise Abatement Society which aims to counteract the stressful effects of noise in our everyday lives.
The Quiet Mark, which is a distinctive Q-logo, is awarded to products that promote "quietness". An example of this would be a manufacturer who develops a quieter hair-dryer.
The Quiet House was a unique concept which was trialled at the Ideal Home Show, earlier this year. Inside the Quiet House, we showcased the effectiveness our acoustic doorsets in cutting out excess noise. Other appliances and fittings were also demonstrated, to show how a quieter and more productive domestic life could be achieved.
The Quiet House was recently featured in the BBC programme, Click which showed how alternative and quieter products can enhance our lives. The programme was widely broadcast across the BBC and shows just how important the quest for a quieter life has become.
For further information about the Quiet Mark, please visit their website.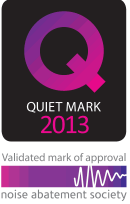 Chiltern International Fire Ltd – specialist fire test engineers
Here you can see the final stages of the fire test at Chiltern at 52 minutes where the engineer is looking for burn through just becoming present at this late stage.
Need advice on Acoustic Doors, then call us: 020 3199 5849
We supply Acoustic Doors, Door Sets and Frames for a host of applications, especially in hospitals, schools and colleges in London and right across the UK.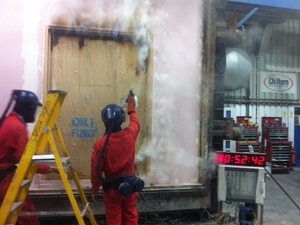 Related Manufacturing Options