Our bespoke fire doors are designed and custom made to your exact specifications and are manufactured to both UK & European standards for fire resisting door assemblies.
We supply the construction industry direct and also when specified by leading architects and interior designers because we constantly strive to provide a reliable service at competitive prices. As a fire doors manufacturer we pride ourselves on the quality of our timber made fire doors.
Fire door regulations and specifications can be complex so whatever you need to know, our friendly team have all the advice and answers. Just call us on 020 3199 5849 and we'll make sure you get exactly the right fire doors for your needs made to exact measurements.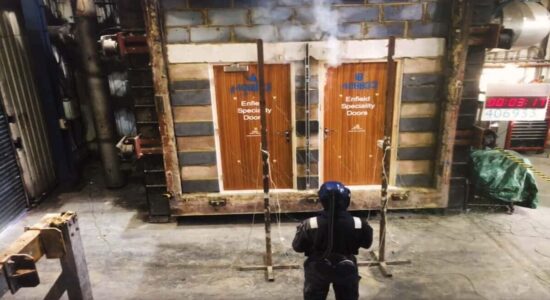 Bespoke Fire Resistant Doors, Door & Frame Sets
From 30 minutes fire resistance (integrity)
Intumescent strips in the frame or the door (not both)
Available as a pre hung assembly
In 2 storey homes doors leading from an integral garage into the house must be fire resistant
44mm Certified core to BS 476 Pt22: 1987 or BS EN 1634-1:2014
Certified glazing (insulating / non insulating)
Must be installed by a competent person
New build or renovated properties with 3 storeys or more, including loft conversions, must have a fire doors to every habitable room off the stairwell
Fire Door Manufacturing Options
Technical Library
Our technical library is a collection of online resources and guides covering our door manufacturing process. This includes detailed PDF downloads and links to partner websites.
If you have any questions please don't hesitate to contact us.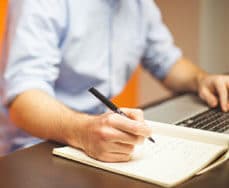 Flamebreak Ultra-Lightweight Door Blanks
Engineered three-layer light hardwood core offering extra strength and stability.
The only lightweight FD60 54mm fire door blank available in the UK, up to 30% lighter than rival blanks
PAS 24 Test Evidence
Acoustic Test Evidence up to Rw 35dB
Thermal Test Evidence
Available with Plywood or MDF faces
44mm (FD30) or 54mm (FD60) thick
Available up to 3050 x 1220mm
BM TRADA Q-Mark Approved
FSC available on request
Strebord Solid Chipboard Fire Door Blanks
Multi-layer particle board specifically designed for the manufacture of wooden fire doors
44mm (FD30) or 54mm (FD60) thick
Severe Duty Rating to DD 171:1987 (Mechanical testing of door & frame set). 500,000 cycles (PAS 23 operations test)
All fire doors also have full acoustic test evidence
BM TRADA Q-Mark AND BWF Certifire approved
FSC available on request
What Our Customers Say
I have always found Enfield Speciality Doors to be courteous, professional and knowledgeable about all aspects of door design.
Neilcott Construction Ltd
"May Gurney have had a strong working relationship with Enfield for the past 5 years and on the back of many successful contracts we have now selected Enfield as our preferred supply chain partner for the supply of all internal Doorsets and Screens. We find that Enfield provide the best value for May Gurney in terms of commercial competitiveness, service levels and quality of product. Enfield have consistently given us good service and on many occasions have gone out of their way to help us out of some tight situation by improving delivery dates. May Gurney are happy to put Enfield forward to any of our Designers and Clients due their friendly and knowledgeable approach"
May Gurney Limited
"We had an urgent order for 20 Fire doors that was going to place a contract in jeopardy. We called Enfield having found them on the internet and they delivered to our specification within 5 days whilst we were quoted six weeks by our normal large supplier! We thoroughly recommend Enfield and have used them again for both Express and Standard orders"
Crownhall Developments
"I am pleased to report back that the school are pleased with the doorset that was changed last week during the school half-term.
The delivery was made on the date agreed and at the time requested by the school during half-term.
The installation went smoothly and was finished to a high standard as the school has high standards of workmanship.  Thank you for your time in ensuring that the process went well and we look forward to working with yourself in the future."
Tasker Construction