Ironmongery & Door Furniture
Our standard hinge range is by Royde & Tucker who have remained at the forefront of UK hardware design and production for over 50 years and yes, they are entirely made in the UK and their HI-Load, Lift off hinges are available in a range of finishes.
For concealed hinges, we recommend Tectus by SimonswerkUK. This is where design meets function providing a completely concealed hinge system capable of load capacities of up to 300 kg. An opening angle of 180 degrees with three-dimensional adjustability and maintenance-free slide bearing technology make this the first choice for prestigious applications.
If you wish to supply your own hinges for us to factory install then please try to ensure that they have rounded corners suitable for CNC router cuts.
You can call us on: 020 3199 5849 or you can email your enquiry via our quick enquiry form.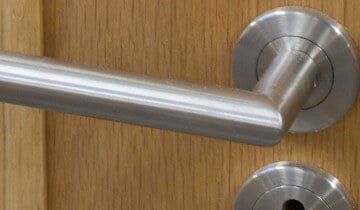 Our state of the art, computerised, CNC router will make all cuts for hinges, fire strips, shoot bolts, locks and latches in one pass so be sure to fully specify your requirements when ordering your doors.
Safehinge
The Royal Society for the Prevention of Accidents (RoSPA) estimates that 30,000 children trap and seriously injure their fingers in doors every year and more than 1,500 of these will need surgery. Adults too – particularly those with special needs, physical or mental impairments and the elderly – are susceptible to finger entrapment.
We've been supplying doors for schools for more years than we care to remember so we've seen the good, the bad and the ugly in our time and we are pleased to recommend Safehinge products because of the quality, the resilience and innovative design.
If you truly want to prevent fingers being trapped in the gap at the hinge edge of a door then eliminate the gap. The Safehinge Alumax incorporates a rounded aluminium profile to maintain just a 3mm gap so that fingers simply can't get in there. The ALU30 or the ALU60 is suitable for fire rated situations and an anti-barricade solution is available.
For hinged doors including retro fit requirements, the Safehinge Alumini is a quality, long lasting solution incorporating a sprung aluminium flap and a flexible membrane.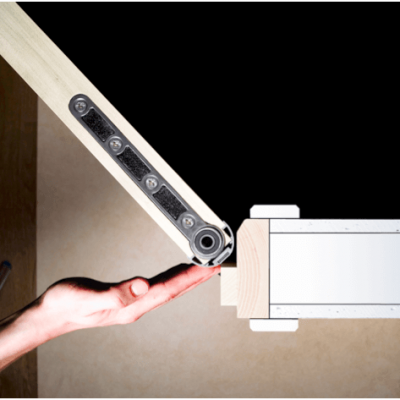 Acoustic doors may have an automatic drop seal which will perform better if an aluminium threshold is fitted. In some cases these are mandatory but they can be supplied as an option. It is important to consider this where there are soft floor coverings or a rough or uneven floor surface.
Exterior doors that open outwards can be subjected to harsh weather. Rebated thresholds and Weather Bars can be supplied to avoid the ingress of water and we can also fit Weather Seals around the frame to stop draughts. Exterior doors must be varnished or painted around all edges, especially under the bottom edge and on the top edge.
Related Manufacturing Options