ALUMAX – The Finger Safe Fire Door From Safehinge
The Problem
The inspiration behind the ALUmax range of products from Safehinge was very simple. In the UK alone, some 30,000 children injure their fingers in doors every year. That adds up to a lot of trapped fingers.
The end result of this is not only a great deal of pain and distress, to children and parents alike, but also the estimated cost of £200 million to the NHS, which has to deal with such accidents. With a culture increasingly focused on litigation, then building owners and specifiers have a responsibility to ensure such accidents are reduced.
The Safehinge Doors Solution
The answer to this problem is ALUmax, from Safehinge which is an integral finger guard which is ideal for new builds. This clever design offers a stylish solution as it integrates perfectly with the door, whilst ensuring it is impossible for fingers to be caught. As an attractive addition to any door, it blends in seamlessly with any environment and is perfect for all sorts of surroundings.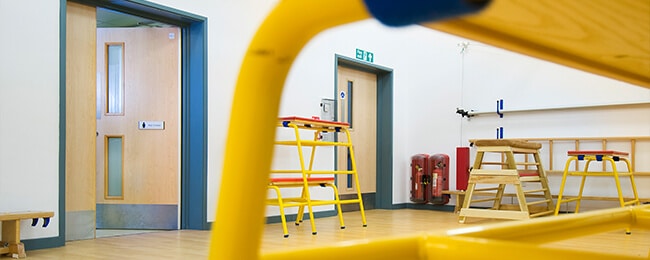 Safehinge in Schools
Safehinge – What makes it Special?
Safehinge offers several unique benefits, which make it ideal for a school environment for children or for adults with special needs.
Unrivalled Safety
It is almost impossible for little fingers (and adults!) to be trapped because of its unique design and sturdy construction.
Excellent Value
In comparison to plastic finger guards, ALUmax finger safe guards have a long lifespan which means considerable savings (up to £500) for each door, over its lifetime.
Efficient Design
It has almost no impact on structural opening requirements and its aluminium profile ensures efficient manufacturing techniques can be used to maximise quality whilst minimising cost.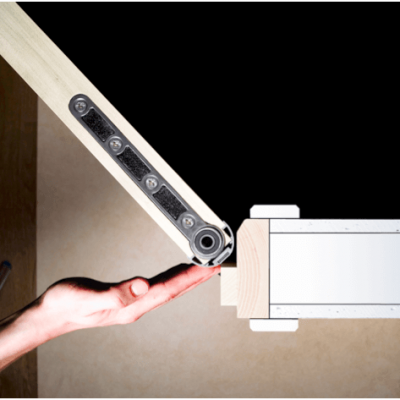 Take a look at the diagrams below, to see how ALUmax compares against other methods used: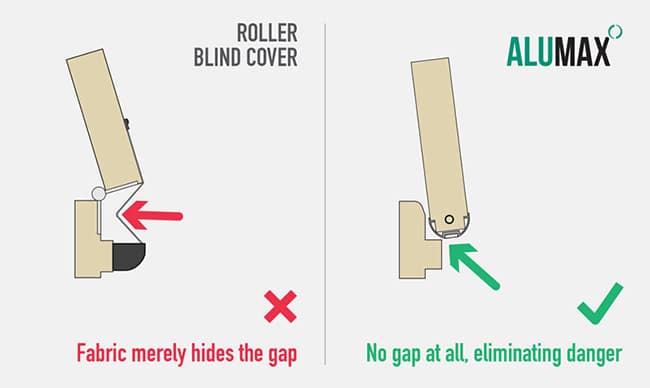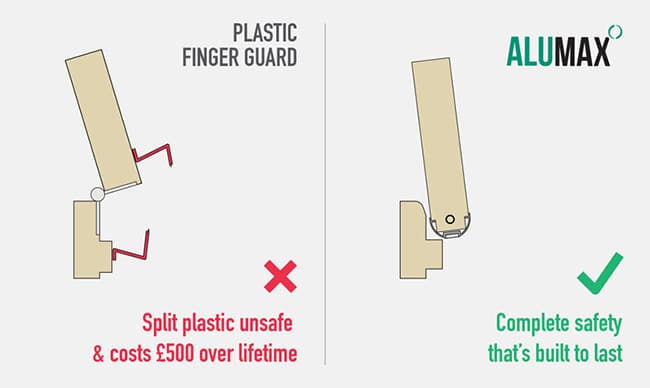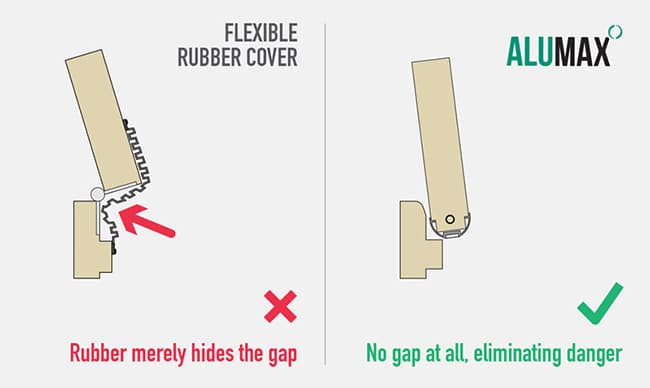 What Our Customers Say
"We had an urgent order for 20 Fire doors that was going to place a contract in jeopardy. We called Enfield having found them on the internet and they delivered to our specification within 5 days whilst we were quoted six weeks by our normal large supplier! We thoroughly recommend Enfield and have used them again for both Express and Standard orders"
Crownhall Developments
"I am pleased to report back that the school are pleased with the doorset that was changed last week during the school half-term.
The delivery was made on the date agreed and at the time requested by the school during half-term.
The installation went smoothly and was finished to a high standard as the school has high standards of workmanship.  Thank you for your time in ensuring that the process went well and we look forward to working with yourself in the future."
Tasker Construction
I have always found Enfield Speciality Doors to be courteous, professional and knowledgeable about all aspects of door design.
Neilcott Construction Ltd
"May Gurney have had a strong working relationship with Enfield for the past 5 years and on the back of many successful contracts we have now selected Enfield as our preferred supply chain partner for the supply of all internal Doorsets and Screens. We find that Enfield provide the best value for May Gurney in terms of commercial competitiveness, service levels and quality of product. Enfield have consistently given us good service and on many occasions have gone out of their way to help us out of some tight situation by improving delivery dates. May Gurney are happy to put Enfield forward to any of our Designers and Clients due their friendly and knowledgeable approach"
May Gurney Limited