Custom Made Doors For Healthcare
The healthcare sector is one of the most challenging to supply – budgets, quality and strict deadlines are all equally important. There is also the sheer variety of door & frame sets that are needed, from consulting rooms, wards and kitchens right through to operating theatres. Such projects make stringent demands on contractors and their supply chain.
Our extensive experience in this area covers new-build, refurbishment and maintenance in both the private and NHS sectors. We aim to work professionally and quickly, alongside the chosen contractor, as part of the professional team.
Technical team with a combined 270 years of experience
North London factory that covers nearly two acres
Stable and experienced workforce
In-house veneer shop to match veneers across a whole project
Fully equipped timber mill to make any section required
CNC machinery for accurate and quick results
Our fleet of trucks is backed up with experienced hauliers
X-Ray
Modern hospitals now contain a variety of scanning equipment which can potentially cause harm, through radiation. Our X-Ray door & frame sets are lead-lined and will protect staff and patients from any harmful effects. They are ideal not only for hospitals but also for clinics, dentists' surgeries and scientific research establishments such as universities.
Hygiene
Our laminated door & frame sets are hygienic and easy to clean whilst attractive to the eye, which makes them perfect for healthcare environments. They can also be made in a range of cheerful and bright colours and so they are highly suitable for such environments as children's wards and clinics.
Durability
Tough use requires tough doors and frames. Upgraded hinges, door face protection, hygienic lacquers, the Safehinge anti-ligature device to avoid trapped fingers and white edge details on the leading edge of doors to make it more visible to sight impaired users are all enhancements that are available when needs demand.
You can call us on 020 3199 5873 or you can email your enquiry via the quick enquiry form.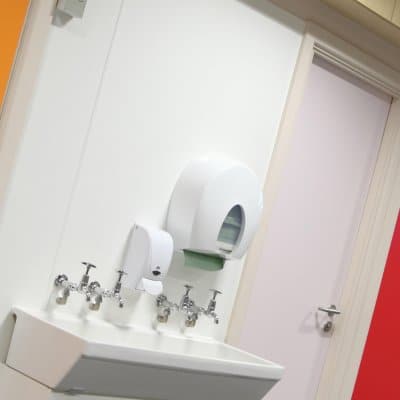 Door Manufacturing Options
What Our Customers Say
"May Gurney have had a strong working relationship with Enfield for the past 5 years and on the back of many successful contracts we have now selected Enfield as our preferred supply chain partner for the supply of all internal Doorsets and Screens. We find that Enfield provide the best value for May Gurney in terms of commercial competitiveness, service levels and quality of product. Enfield have consistently given us good service and on many occasions have gone out of their way to help us out of some tight situation by improving delivery dates. May Gurney are happy to put Enfield forward to any of our Designers and Clients due their friendly and knowledgeable approach"
May Gurney Limited
"I am pleased to report back that the school are pleased with the doorset that was changed last week during the school half-term.
The delivery was made on the date agreed and at the time requested by the school during half-term.
The installation went smoothly and was finished to a high standard as the school has high standards of workmanship.  Thank you for your time in ensuring that the process went well and we look forward to working with yourself in the future."
Tasker Construction
"We had an urgent order for 20 Fire doors that was going to place a contract in jeopardy. We called Enfield having found them on the internet and they delivered to our specification within 5 days whilst we were quoted six weeks by our normal large supplier! We thoroughly recommend Enfield and have used them again for both Express and Standard orders"
Crownhall Developments
I have always found Enfield Speciality Doors to be courteous, professional and knowledgeable about all aspects of door design.
Neilcott Construction Ltd