You can call us on 020 3199 5849 or you can email your enquiry via our quick enquiry form.
The log is sliced along its length, resulting in a figured appearance.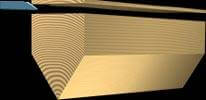 The log is cut along its length to form four separate 'quarter logs'. These are then sliced at 90 degrees to the growth rings to provide the sheets which give a striped appearance when assembled.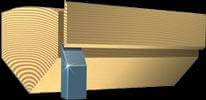 The log is simply peeled to give a continuous veneer, generally used for constructional plywood. Veneer sheets cannot be matched except for general colour characteristics and their appearance is wild and flowery.